Arsenal fans react to Shkodran Mustafi's performance vs Watford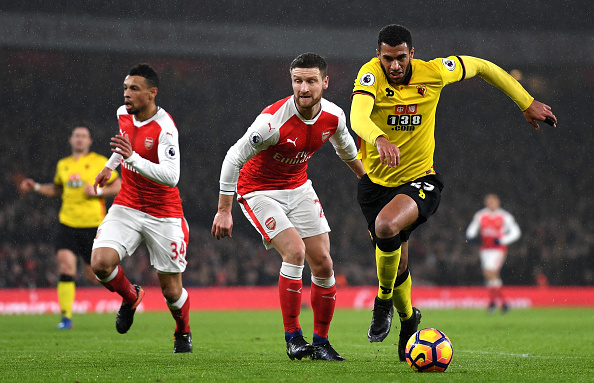 The Arsenal fans have made their frustration clear after Tuesday night's unexpected result against Watford at home.
Arsene Wenger's men followed up the 5-0 thrashing of Southampton in the FA Cup by losing 2-1 at home to the Hornets.
Shkodran Mustafi was the only player to retain his place in the starting eleven from Saturday and he had an evening to forget on Tuesday.
After the Gunners' failure to put together a comeback following Watford's stunning start which saw them go 2-0 ahead after 14 minutes, Mustafi has now lost his first game in an Arsenal shirt.
And here were the reactions on twitter….
Still trying to understand how Mustafi got destroyed 1v1 by Capoue shifting to his left. No guile, no trickery, yet SM was exposed badly…

— RG⁶ (@registability) January 31, 2017
Mustafi's unbeaten run included PSG, Spurs, United & Chelsea but he'll lose his record against Watford at home, the most Arsenal thing ever

— Ama (@amahehe) February 1, 2017
Mustafi almost lost it with the ref. The reason? Not the ref-he had an average game. No, it was Mustafi's frustration with his team mates

— Graham Perry (@arsenalcircular) February 1, 2017
https://twitter.com/SimonClancy_/status/826776404343799808
If you're going to criticise Mustafi for his defending for Deeney's goal look at Coquelin absolutely got done and made Mustafi vunerable

— KS (@Kastriot98) February 1, 2017